~:~ Alaska Fishing ~:~
~:~ MAP AND DIRECTIONS ~:~
In 2006 We Moved
to a new location!
See Driving Directions Below the Map
»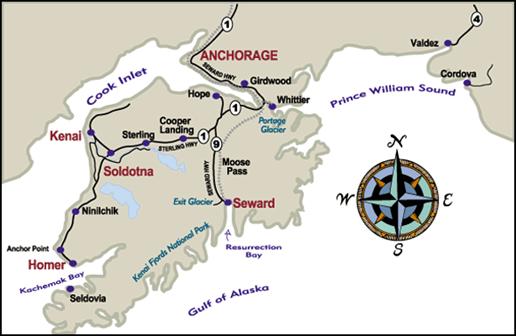 ALASKAN FISHING FEVER
YOUR ALASKA FISHING CHARTER
DRIVING DIRECTIONS FROM ANCHORAGE TO NINILCHIK
If you are driving from Anchorage you head South on Hwy. 1 (Seward Highway). Stay on Highway 1 following the signs to Kenai/Soldotna. You will travel through Cooper Landing, Sterling and through Soldotna following signs to Homer. Approximately 40 miles from Soldotna you will come into Ninilchik.

Once in Ninilchik:

You will see a Tesoro Gas Station on your left hand side of highway. Continue driving south (towards Homer) for approximately another 5 miles. Watch for the small mile post signs located on the right hand side of the highway. When you see Mile Post 141, slow down as we are located at Mile 141.3. Our business is located on the right hand side of the highway (ocean side). You'll see our sign "Alaskan Fishing Fever Charters" where you will make the right hand turn into our driveway.
Pull on in and come into the office for a hot cup of coffee. We'll get you all set up for a fun day of fishing and settled in your home away from home.
Enjoy your beautiful drive! If you have any problems locating us, give us a call on our toll free number 1-866-262-0708 or locally at 567-4452.